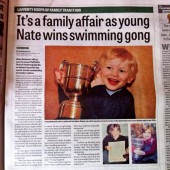 Nathaniel (Nate) Lafferty won the 'Water Babies Cup' at this February's Sheffield and District ASA Gala, for the youngest swimmer to complete a length (25m) at Sheffield's Ponds Forge International Sports Centre.
His two aunts, Frances Lafferty and Catherine Lafferty have their names on this cup, winning in 1977 and 1979 respectively.
Uncle Ben Lafferty was a GB swimmer and made the 400 IM final at the 1998 Commonwealth Games in Kuala Lumpur, representing England.
Nate's father, dentist Jim Lafferty represented England 'A' at water polo in 2001, and on his mother's side, his late Grandmother, Susan Stokes, was a swimming teacher in Stockport.
To read the full article click on the image above.