Welcome to Orgreave Dental Surgery in Sheffield
As I am sure you will understand, our Covid-19 arangements are very different from our 'normal' times.  We are not currenly in a position to see patients for routine treatment, but we are able to see patients for all urgent or emergency treatments, but, by appointment only.
So…. what should you expect when you come??
We are remotely triaging patients so we can work out what treatment you will need, and to prioritise emergencies. We are following the latest guidelines from Public Health England, NHS England, the British Dental Association and the Faculty of General Dental Pratice (at the Royal College of Surgeons of England) – there are treatments we provide that require the surgery to be left empty for an hour before cleaning, so we are trying to minimise the effect of this on the through-put of patients. We have one surgery set aside exclusively for these treatments.
We will ask you to complete your paperwork remotely (medical history forms etc)  – we will end you an email with a link to a secure site to do this. We will abviously check that you have not currently got symptoms of Covid-19, or have tested positive in the last 14 days.
We currently only have 1 patient in the building at one time – so please park at the top of the drive and phone us to tell us you have arrived. Unless you are a parent attending with a child, or carer of a patient, we will not permit anyone else in the practice at the same time.
Our roving nurse will call you in when we have fully decontaminated the surgery after the last patient. After holding the door open for you, you will be asked to sanitise your hands in reception with an alcohol based hand-rub before going directly into the surgery.  Please don't bring anything extra with you – we have removed everything possible from the surgery to make it easier to clean, so please leave your coats etc at home, or in the car!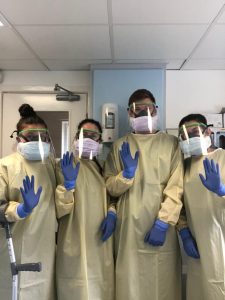 When you are in the surgery, we will wear high filtration masks, full length waterproof gowns and a visor to provide treatment that involves the production of an aerosol, or we predict might do – there is a picture of our staff in the new gowns and masks here…..
We are more likely to use 'rubber dam' – a thin sheet of rubber (well, silicone actually –  as some people are allergic to natural rubber, but the name goes back a long way!) to seal around the teeth and help better control the cooling spray of water & air from our drills.
We are taking contactless payments on departure, where you can wave to Phoebe, who is on reception behind our perspex screen, before using the alcohol hand gel again.
Our roving nurse will hold the front door open for you so that we know exactly what surfaces to decontaminate before the next patient.
We are preparing a video of what you can expect to see when you arrive…..
This site last updated July 10 2020 @1730 by Jim Lafferty.