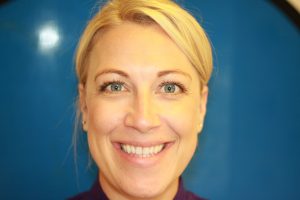 Emily Joined us in January 2016, having qualified from Sheffield University in 2006 with a Diploma in Dental Hygiene and a Diploma in Dental Therapy. Originally from Peterborugh, Emily also works at two other dental practices in Sheffield. Currently working on Fridays for us, Emily's dual roles are as a Dental Therapist (fillings on adult and child teeth, extraction of children's teeth) and a Dental Hygienist (gum therapies, oral hygiene advice, scaling and polishing of teeth.)
Emily's role enhances and develops the preventive ethos of our practice, helping improve oral health to maintain general health.
Emily is registered with the General Dental Council, registration number 103673, and her registration can be found here. Emily adheres to the General Dental Council's Standards for the Dental Team.
Emily is a UK graduate, having studied in Sheffield, and female.
Emily likes to spend her spare time walking, and has done a giant trek in the Himalayas in 2016, doing voluntary work there as her 'recovery'.