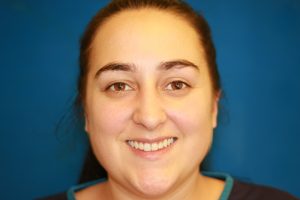 Claire joined us in January 2017 having worked at A2 Dental Studio in Rotherham for 6 years.
Living in Rotherham, Claire will shortly be getting married – and is honeymooning in Cyprus.
More about Claire
Claire is a qualified and registered Dental Nurse, having studied at the Charles Clifford Dental Hospital in Sheffield, doing the National Certificate in 2011, and being first registered with the General Dental Council (GDC) on 25 July 2012. Her registration number is 230123.
She has her indemnity arranged through Dental Protection.
You can view Claire's Registration with the General Dental Council https://olr.gdc-uk.org/SearchRegister/SearchResult?RegistrationNumber=230123″ title="GDC Registration for Claire Chapman" target="_blank">here.