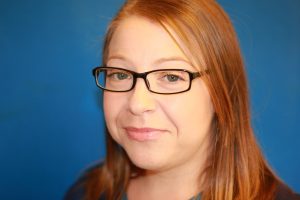 Aimee joined us in January 2016 having worked in a range of private and NHS practices, working with specialists in Edodontics and assisting in implant placement and restoration.
Living in Maltby, Aimee has two children, likes Piloxing (a cross between Pilates and Boxing!) Zumba and decluttering! She is already working her way through Jim's surgery making it look tidier….. and wants to do more!! Aimee has led our redecorating purge in 2016 and 2017!
More about Aimee
Aimee is a qualified and registered Dental Nurse, having studied at Sheffield College, (formerly Castle College) doing the National Certificate and NVQ Level 3 in Oral Health Care in 2005, and being first registered with the General Dental Council (GDC) on 29 Dec 2009. Her registration number is 185215. She has additional training in fluoride application and imnpression taking.
She is a member of the British Association of Dental Nurses and has her indemnity arranged through their supplier, Trafalgar.
You can view Aimee's Registration with the General Dental Council here.